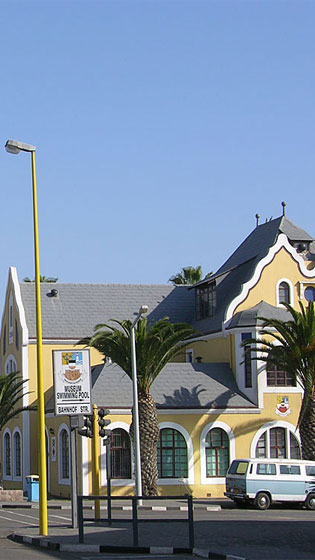 One of the most unusual places
Swakopmund is one of the most unusual places in this surreal country. It is Namibia's premier beach resort and is one of the best preserved examples of German colonial architecture in the world. Attractions in Swakopmund include a transport museum, the National Marine Aquarium, a crystal gallery and spectacular sand dunes near Langstrand south of the Swakop River.
The city is known for extreme sports, while nearby lie a camel farm and the Martin Luther steam locomotive, dating from 1896 and abandoned in the desert. Swakopmund also offers a host of other attractions, including excursions by boat to see dolphins and seals, shore based angling, skin diving, surfing or just simply lazing on the beach. And, of course, the town is surrounded by the Namib Naukluft Park, one of the most bewitching desert wilderness areas in Africa, for one day trips or longer safaris for the ultimate desert camping experience.

Swakopmund is a popular seaside resort with many tourist attractions and a pleasant climate in summer. Visitors can go on town tours, fishing trips, snake park, sand boarding and skiing, parasailing, quad biking, off road driving, camel rides and hot air ballooning. Driving along the stunning dune-lined coastline is particularly attractive, whether you go south to Walvis Bay (30 km) or to the National West Coast Recreation Area in the north.
Heading south of Swakopmund to Walvis (Whale) Bay, the desert announces its presence with several huge orange sand dunes. Dune boarding and quad biking are favorite activities here. The Welwitschia drive is an interesting way to spend a few hours and introduces you to some of the fauna and flora of the Namib Desert. Bird lovers can pay a visit to the Swakopmund Salt Works or the Walvis Bay Lagoon, which in season is frequented by thousands of flamingos.

There are excursions for quad biking or sand boarding on the the road to Walvis Bay and to the north of town to Spitzkoppe for abseiling and hiking. The smell at Cape Cross Seal Colony can get a bit much at times but the cavorting, fighting, sleeping and snoring of so many seals is fascinating to watch. Only 4X4 vehicles tend to venture further north as the road leads to the desolate Skeleton Coast, where a skull and crossbones sign warns visitors not to stray into this hostile land. A fly-in safari to this area will attract those with a real sense of adventure.

The source of Swakopmund's continental atmosphere is the graceful art nouveau building. Eleven of these charming old buildings are national monuments. The graceful lighthouse in Swakopmund, just one of the many characteristic old structures gives this town its particular charm. The architecture and general feeling of Swakopmund is one which may be associated with a small German village, and the town seems to be stuck in time. Although in recent times a new generation have woken up to the tourist potential of the area Swakopmund still manages to create a feeling of timelessness.

Night time entertainment ranges from sophisticated spins on the casino's roulette wheels, through raucous parties at the many pubs and restaurants, to an assortment of drama, music and cultural events.

We will gladly advise you on all tours and activities and arrange bookings to make your stay in Swakopmund a memorable one.